So, first off, I want to say that I respect what they were trying to do with this episode. It was clearly written, more than Girl Meets Gravity even, as a direct response to the criticisms lobbed toward GMW's way. Those two major criticisms being:
1. Lucas is boring, has no identity, and is too idealized.
2. Cory's an awful teacher. Why can't he be more like Mr. Feeny?
Number 1 took up the lion's share of the time and I think it mostly didn't work. He worked in yesterday's episode not because he underwent some radical revamp, but because he simply... was written better. And the actor performed better. Peyton Meyer was just as good in this one, but this attempt to add a dark and mysterious past into Lucas was pretty silly and felt very forced. I don't believe for a second this was ever Lucas' intended backstory in Season 1, and so it felt very retconnish. Even the revelation that he'd be held back read like "We heard you! He looks too old now! Well, it turns out he missed a year! See! We fixed it!"
And, really, this wasn't even that dark and mysterious a past. He got into a fight defending his loudmouthed friend. That's not even really a flaw. It's like when you're on a job interview and they ask you what your weaknesses are and you say something like "I work too hard sometimes." that's really a strength. So worried are they about Lucas not being the boy of tweens' dreams that they can't even give him a real dark past. You know what would have been cool? Maybe he was caught smoking pot. Maybe he stole something. Maybe he beat up a kid not for honorable reasons but because he was a jerk back in Texas.
Again, I respect the effort. But the execution wasn't very good. At least before I got to enjoy Maya making jokes at his expense for being so lame. Now, I'm going to be expected to treat him like he's dangerous and edgy. Blech.
As for number 2... that's, I mean, okay. I enjoy how they've pointed out that Cory is no Feeny, and I enjoyed his use of a valuable lesson Feeny taught him way back in Season 1 (a pretty nice call back), and I agree that Cory and Feeny are fundamentally different people. Cory teaching his class like Feeny did would never have made sense. Still, it doesn't change the fact that Cory's method is horrendous. It's fine to be more relaxed and let people make mistakes and even chitchat once in a while. Turner did that. We liked Turner. But Cory makes his classes all about teaching a lesson to just his daughter and her friends or allowing them to work out their personal problems. That little kid Yogi (that they're... suddenly obsessed with giving moments in episodes to...) may be the most untalented child actor I've maybe ever seen... but he had a good point and a great line with "Please. I am not your daughter, but I also am a person of value." And, guess what happened... when Cory unveiled what that 'meaning of life' was? ...It was in the hallway, only to the foursome. Again... nice try, but ultimately a failure.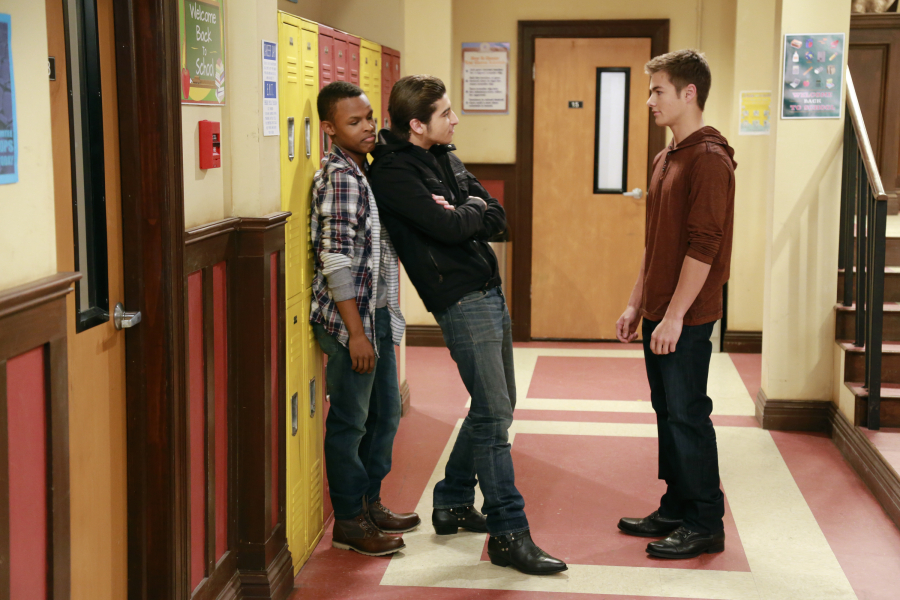 Speaking of the foursome... maybe they're a fivesome? Meet Isaiah "Zay" Babineaux everyone. I hate him. I hate the way he Sixth Ranger-ed into the room and shouted "What? You started without me?" This kid has Poochie from Itchy & Scratchy written all over him. He just feels so... focus-grouped. Or fan-ficy.
Meet Lucas' best friend from Texas.
His name is Isaiah, but he goes by "Zay" for short!
He went to the same school as Lucas in Texas and he happened to get transferred to the same school in New York! He and Lucas are just as much best friends as Riley and Maya are best friends! He's super funny and hip and radical, and he does what he wants, and he's super cool! Haha, when they were all washing a car, he was just hiding out inside the car! He gets bad grades but he doesn't care and sings a song about it because school sucks. When Cory told him to take a seat, he didn't sit at a chair, he sat ON TOP OF HIS DESK! What a character!
They laid the Griff Hawkins swagger on this poor kid heavy and he just doesn't have it. They're just trying so hard to make us take him to him right away. And I didn't. And his actor's even worse than Peyton Meyer. And, a lot of his antics (as well as his name) seemed pretty Token Black Guy.
Really, that's this episode's problem all over. They're just trying soooooo hard. It's exhausting.
Not a good episode. I liked Farkle in this one though, a lot. And Peyton, again, showed that he's improved. Also NuHarley was cool.
Disclaimer: I'm eating Steak and Shake while I watch this episode, so my comments may be unusually positive.
Although, after some preemptive glances at Christian's comments, that doesn't seem likely.
So here's a true story. Christian sent me an email earlier which read "ZAY CAN DIE IN A FIRE." I hadn't watched the episode yet, so my first reaction was that it was a character's name. Thinking about it some more, I convinced myself that a character couldn't possibly in the world be named Zay, so it must have been a quote of some character, probably Farkle, saying "they can die in a fire" with a German accent. Seeing the lesson start out on Belgium, that theory seemed even more likely.
But no. I was right the first time.
There is a person named Zay.
God help us all.
I can't believe they took my favorite joke in the series and jackhammered it into the ground. They brought back the Belgium thing in the previous episode, and I was like "OKAY THAT'S FINE IT'S JUST ONE EXTRA TIME IT'S FINE," but now... Now it has been defiled. How could you.
Oh noooooooooooooooo. This one was directed by both Rider Strong AND his brother Shiloh. They also had Rider direct Girl Meets 1961. Why does this poor guy always get stuck with the schlock?
The math problem is the exact same problem from episode 1.11 of Boy Meets World. The names, the times, as well as having a life lesson as an answer (though a different lesson), all of which is, I agree, a delightful callback. I will always love how Shawn and Cory tried to tackle that problem.
Most interesting to me is the fact that Farkle arrives at a vastly different answer from his father, but I enjoyed Farkle's reaction to being wrong.
Lucas's "Oooh she took us both out" is Peyton's best joke delivery in the series. He's learning.
Anyway, I agree with Christian on most of his points. Zay is an abomination, and this whole story is a retcon insofar as changing Lucas's backstory from "nothing" to "something stupid." We are in for a very long season if Zay is a recurring character. On that note, Christian, "Sixth Ranger-ed into the room" is the funniest thing I've read in an extremely long time. Good lord that's fantastic.
So what do I disagree with? I'm honestly not sure that Lucas's past offenses consist solely of defending Zay. The little hints here and there suggest that it did happen at least once, but it's possible that he got into other fights as well, for less noble reasons. I sure fucking hope that's the case, otherwise this backstory is a god damn disgrace like you said. The universal complaint with Lucas is that he's too perfect, so what, they make him a martyr too?! It goes back to my rant about Riley, a good character makes mistakes. Actual mistakes. Defending your best friend is not a mistake. So this better not be the last we hear of his past. I want to see recurring bouts of anger management issues, like the one we saw in class near the end of the episode. There is definite potential here.
Either way, I respect what they wanted to do with this episode but it exploded on launch, in addition to destroying the legacy of my favorite joke. I swear man, if Zay makes an appearance in Friday's episode, I will burn down the internet. Zay does not belong on the same show as Eric Matthews.
I do have to point out that, while it wasn't as in your face as this season, they've been doing the Belgium joke for a while. Since maybe the pilot. There's been a lot of instances of Cory starting to talk about Belgium in 1831 and getting interrupted. So, I think the episode where you were into it, was just the episode where you noticed it for the first time. Not sure if that makes it all better and worse. But I expect it to be a recurring joke from now on, where we only learn about Belgium in 1831 in the final episode. By the way, the lesson will evidently be on the Belgian Revolution which took place in 1831, a quick Google Search tells me. Still, I appreciate the joke here because it at least had Farkle scream "GET OUT!" the moment fucking Zay showed up. Dude, I hate Zay.
By the way, I really, really enjoyed your Zay story and your wondering of what it was I meant by that. Sorry, Zay is a living being. He is very very real. And, yet, bizarrely he does fans. Honestly, this episode seems very polarized. Basically everyone disliked Girl Meets Gravity and everyone liked Girl Meets the New World, but this one has some major fans, I've seen. They appreciate the attempt to inject more pathos into Lucas while paying no mind to just how badly they went about it. And some people actually fucking like Zay.
I hope you're right about there being more to Lucas' deep dark past, but I just don't have the faith they're willing to actually dirty him up too much. This just seems a very day late/dollar short attempt at making this cat interesting. They're better off with more episodes like Tuesday's.
I was also pleased with Peyton's delivery of that "took us both out" line. He really is getting better.
I don't know. I don't really have anything else for this episode. You may close out this episode review with any final thoughts!
Episode MVP: This is tough but... Corey Fogelmanis is actually who I enjoyed most here. Sorry Peyton! I know you had two good episodes in a row! We'll get you an MVP one of these days, I swear.
SO EXCITED FOR TONIGHT'S EPISODE!
Did they do the "Farkle gets upset" thing all the way back to the pilot? I think the episode I'm always talking about was the first time they had Farkle excited about the lesson. I could definitely be completely wrong and dumb, though. That would be a shame, but not entirely a surprise.
No, I don't think so. I think the episode you're referring to is the one where Farkle's all dressed up in Belgian regalia and is briefly just like "NO!" when Cory reveals they're not going to talk about it, right? That was a later episode. But my memory of it isn't perfect either. I just know they've been doing Belgium 1831 from the beginning. But again, not nearly as often or as obviously as we've seen it in Season 2.