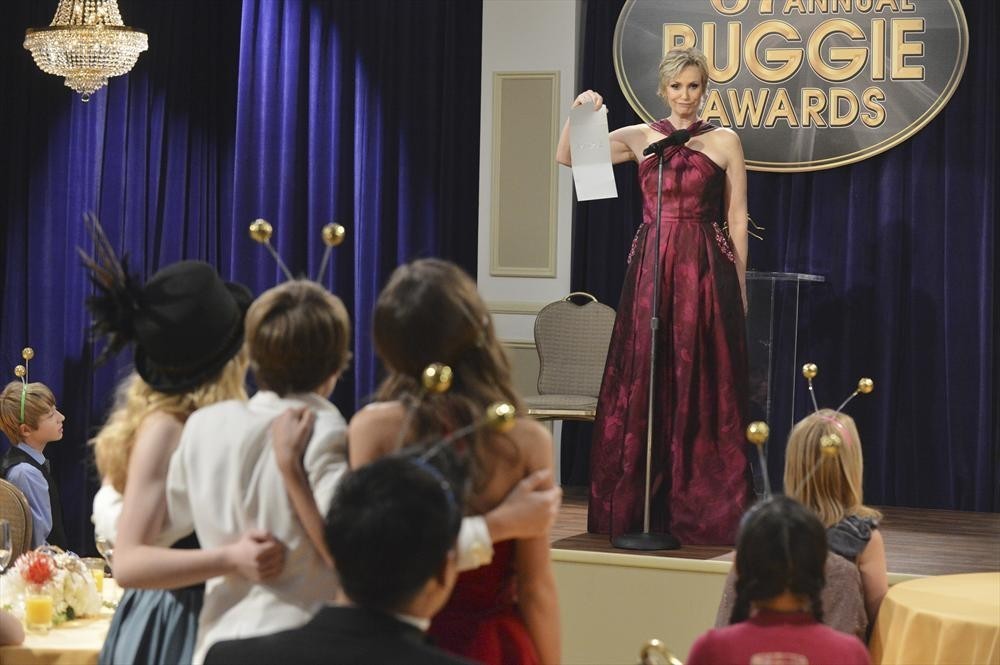 Not too shabby, Girl Meets World. It will be duking it out against fellow Disney Channel show "Dog with a Blog", "Degrassi: The Next Generation" from our friends up north, Nickelodeon's "Nick News with Linda Ellerbee" which has apparently been going strong for 23 years even though this is the first I'm hearing of it, and an HBO series called "Masterclass" which is also news to me.
Both "Nick News" and "Masterclass" are non-fiction educational shows, so it seems a little unfair to have them up against actual children's series. Like "Nick News" has won this award a lot, and it's for episodes like "The Face Of Courage: Kids Living With Cancer" and "Forgotten But Not Gone: Kids, HIV & AIDS." That stuff sounds a touch more heady than "Girl Meets The Tell-Tale Tot". At the same time, though, like... if that's the kind of stuff "Nick News" is putting out there then, yeah, they probably deserve to win.
If you're curious how many Emmys "Boy Meets World" was nominated for during its seven season run? That would be zero Emmys.
It's pretty incredible that this show is getting so much recognition. Then again, if Dog With A Blog got nominated, maybe it's just slim pickings. With Emmys, don't they usually point to one particular episode to give the award to? I'm curious to find out what that will be.
Boy Meets World was stuck in a weird place. It wasn't a "kids" show because of the themes and profanity, but it certainly wasn't mature enough to get the Oustanding Comedy Series nomination. Even if it were mature enough, it would have been going up against Frasier, Friends, and Seinfeld during its first five seasons. Our boys never stood a chance.
Besides, Big Bang Theory has received an Emmy nod for Outstanding Comedy Series four times. These people clearly don't know what they're doing.
What the hell is a kids' show doing on HBO?
Actually this "Masterclass" show sounds cool. Each episode is a different noted artist giving a lesson to young adults who are passionate about that. They've had actors, musicians, writers, dancers, filmmakers, etc. including some big names like Alan Alda, Josh Groban, Frank Gehry, Edward Albee, Placido Domingo. So, it's y'know, High End children's entertainment. It's not TV, it's HBO. It appears to air on the odd Tuesday night with no rhyme or reason as to when it'll show up.
I'm extremely proud that I've never seen even one second of Big Bang Theory. It's on CBS and Chuck Lorre writes it. All I need to know about that.
I agree that Boy Meets World was in such a golden age of sitcoms that it would have no chance. It was freaking Shakespeare compared to its sister shows on TGiF but Seinfeld, Friends, and Frasier it was not. Still, maybe not a best show nomination, but how about a Supporting Actor nod for Will Friedle or William Daniels or something? I think Will in Season 4* and Daniels maybe in Season 1 would have deserved that. A Guest Star nomination for Blake Clark? Something?
*I just looked up who was nominated for Supporting Actor for the Emmys during BMW's 4th Season. The nominees were Michael Richards, Jason Alexander, David Hyde Pierce, Jeffrey Tambor, and Rip Torn. Yeah, okay, nevermind. But! Then I looked up Daniels' competition in Season 1, it's still Richards, Alexander, Pierce, and Torn, but Jeffrey Tambor is replaced with Jerry van Dyke from Coach. I remember Coach (which is, bizarrely, returning to NBC next season) and I remember van Dyke's character of Luther. He's not Emmy worthy. Daniels coulda been in there.
As for Dog with a Blog, dumb as its premise is, it actually appears to be one of the better Other Disney Shows. The little I've seen of it has been better than the little I've seen of Jessie, Austin & Ally, or K.C. Undercover. You and I should do a thing where we watch one episode of each of the other Disney Shows, and rank them as series, and compare GMW to them.
Oh, and I tried to find out which episode it was, but I couldn't find it. But you're right, it probably is just one episode, and it's probably from Season 1.
I'm... certainly down to check out an episode of Liv and Maddie, but... that's for other reasons...
But yeah, sure, we can do that. Maybe find the highest rated episode of each.
Nah, I'm with you. That Dove Cameron is foxy. And she's 19! We're totally fine

there!

And cool, we'll do that then when BMW has an off week or two. I know we have readers who are devoted followers of the other Disney Shows. Maybe you guys can recommend the best episodes of:
Jessie

Austin & Ally

Dog with a Blog

Liv & Maddie

I Didn't Do It

K.C. Undercover

Best Friends Whenever
That's it, right? That's all of them?