Hey everyone, Sean here, I'll be starting things off tonight. Before we jump into the episode review, I have a quick announcement.
My closest friend of the last decade, and I'm talking like Shawn/Cory close here, was recently diagnosed with stage 4 lymphoma. Chemotherapy is not cheap, and we're in our low 20's, so his main financial goal recently has been just to pay rent. Needless to say, the medical bills have become overwhelming. As such, I'll be hosting my first ever ever 24 HOUR ANIMATION JAM/CHARITY STREAM tomorrow, June 12th, starting at 5 pm (eastern), and ending Sunday at 5 pm. I will be animating for 24 straight hours, streamed live on my twitch channel here: http://www.twitch.tv/kbmstudios
We'll be taking donations all through the stream, and you'll find a link to the gofundme page there on my twitch channel. It would mean the world to me if you could tune in for a bit, hang out and say hi, and maybe even toss a donation to the gofundme. I'll have a facecam and microphone and everything, so it'll be fun. And I'm going to be working damn hard for those donations! Everything helps. I hope you'll stop by!
By the way, my friend's name is Jason, which was of course the name of Eric's best friend in the first two seasons of BMW, though my Jason has curly hair like Cory's. And obviously my name is homophonic with Shawn's. IS IT ALL A BIG COINCIDENCE? IS THAT POSSIBLE? YOU TELL ME.
Now, on with the show.
-----------------------------------------------------------------------------------------
My first thought with this episode is that there's no BMW counterpart. Not even Turner pulled anything like this. That alone gets me exci- okay, and I promise I'm not making this up, just as I was typing the word "excited," Ava walked into the apartment to start bothering Topanga. You had me, Girl Meets Rules, don't you want me? Why did you do this to me?
Shouldn't you be at school, Ava?
W... wait a minute... Computer! Zoom in on the top right quadrant!
Computer! Repeat last command!
Computer! Enhance!
Well isn't that just adorable. They've got a picture of the old gang pinned up on their kitchen corkboard thing. I wonder how long that's been there. Rider probably hates that picture. Speaking of the Strong man, he directed this episode alongside his awesome brother Shiloh. Shiloh did some voice acting in one of my favorite games, so I'm a fan.
In the past, Christian has been unhappy with Harley's appearances on Girl Meets World, while I thoroughly enjoyed them. This episode makes Harley 3 and 0 for me. I applaud the decision to use Harley instead of Cory for this lesson, and I still don't understand why ol' blue text is so hard on our man's acting chops. He's no Christopher Lee (rest in peace), and he's not winning any awards, but I definitely think he's up to the standard of this show. And the funniest moment of this episode was him "intimidating" the vending machine.
So let's talk about the lesson. It's basically the entire point of this series that Riley has a positive effect on people. "People change people." I got no problem with that. This episode was a little in-your-face about it, but that's okay, it's Disney channel after all. My biggest concern is that anyone who might benefit from thinking to themselves "I should stick close to my good influences" isn't going to be watching Disney channel, let alone Girl Meets World. But who knows. If it hits even one person, that's a net gain. Either way, I respect both the intent and execution.
The plot, though, was just plain fun. I thought for sure we'd have to deal with that Chinese kid who popped up a lot earlier this season, thank goodness he got left out. I didn't realize it while I was watching, but Zay got left out too. Zay might have actually been interesting in this one as the only character privy to Lucas's "dark" past. There's a lot of room for Zay's commentary on Lucas's character as he obtains the title "Lucas the Good" and consequently joins the Mad Max (Mad Maya?) group. Yes, I'm actually counting Zay's absence as a missed opportunity. Alert the president.
Back to what I was saying though, I had fun from start to finish. Original plot, couldn't predict what would happen. I'm just surprised they didn't do a literary thing with Lord of the Flies in class. Maybe that's too controversial for Disney.
I'm struggling to think of more to write. That may be because half the episode was a waste of time. It really sucks when Topanga gets relegated to these annoying Auggie stories. It's odd that Ava isn't at school, but even more so that Topanga is home. She is a very busy lawyer and she does not have time for Ava's nonsense. I know I don't.
Ultimately, there's nothing new in the character arcs here. We know Maya is the rebel, we know Riley is her good influence, we know Cory is looking out for Maya. On the other hand, the approach was new and creative, and the lesson stuck, so I'm completely satisfied. Riley and Lucas had a pretty sweet moment out in the hallway, but Maya and Lucas had a pretty saucy moment out in the hallway, with their faces very close to each other. Are the writers just taunting us?
LOOK. AT. THAT. SHIT.
What are you thinking, Christian? Admit it, Zay could have actually brought something to this episode.
HEY! Let's get one thing straight. This font is indigo.
But yeah, no, Danny McNulty's acting is rough. I'm not sure I agree that he's up to the standards of this show, and this show is mostly children. I guess he's up to the standards of August Maturo. But seriously, I continue to not see a good reason for Harley in this show. But more on him later.
On the whole, this episode didn't work for me. As you mentioned, there's nothing new to be gained here. The basic premise seems to be to remind us of something that's been self-evident, and yet explicitly stated, since the first scene of the first episode: Riley's the good girl, Maya's the bad girl. We know. And whereas you're willing to give the episode points because while the message isn't new, the delivery is, I'm not. While I agree that this episode has no obvious BMW analogue* (though there are certainly shades of And Then There Was Shawn) it's an achingly familiar plot for kids shows in general. Be it Saturday morning cartoons or tween sitcoms like this, eventually every TV writer of kids eventually remembers they read Lord of the Flies in high school and attempts to recreate it.
And here they did nothing interesting with it which is perhaps what bothers me most. Left without adult supervision, Riley stays quiet and Maya runs around. Exactly what you'd expect. I was hoping for some new twist or revelation, maybe some situation wherein things start to get too out of control and Maya is forced to be responsible or, I don't know, something. But I didn't get it. So I was really left wondering what the point was. I'm not even sure what Cory was attempting to teach them. That Riley and Maya are good influences on each other? They know that already. Was that a lesson he desperately felt he needed to teach? And was it worth subjecting the entire class to this foolishness to do so? I'm just so weary of Cory's teaching style being all about only two of his students, I can't even come up with more to say about it.
Instead, I'll talk about how I thought Harley was weird in this episode. Mainly in his, frankly, bizarre characterization of who Cory has been to him. First off, when he discovers what's going on he kind of smiles knowingly and declares that this lesson has Riley's father written all over it. You know what Harley? I know Cory Matthews very well. Better than you do. And, no, it doesn't! It has the poorly written Faux-Feeny they attempt to clumsily make Cory become in certain classroom scenarios all over it. AKA The Worst Cory of All That Bears No Resemblance To Our Hero.
Additionally, Harley, while I'm at it, where was I when Cory the good kid showed you the other door and made you quit your n'er-do-well ways. Because, as I recall, the two of you never got along in high school and he had no effect on your bullying, nor did he attempt to. Cory's not even that good of a kid. He was more stable and responsible than Shawn was, but that's not saying much. Yeah, his heart's always in the right place (though so is Maya's), but he got in trouble, like, a lot. He mouthed off in class, didn't do homework assignments, messed around with Shawn instead of paying attention. He's not defined by his super good pure goodness, he's defined by being... I dunno... Cory. Weird, little, 83-year-old toddler Cory Matthews who will go through diabolical manipulations to avoid change. And I don't like when they forget that in order to have him take the BMW role that someone more suited should be playing.
So, unless the implication is that Cory's saving of Harley took place when they ran into each other as adults and Cory eventually got him this job (which, I don't think they are, and if they are, is a complicated enough story that they should be expected to explain that rather than have us guess) all of this is bullshit.
So, in addition to this retconning of who Cory was back in high school and the effect he had on n'er-do-wells, I also don't see the point of this mapping they're apparently doing of Cory and Harley on to Riley and Maya's relationship. They've already made very clear that Riley and Maya are the new Cory and Shawn, and, yeah, on the whole, they are. You can't also make them the new Cory and Harley. First of all, no they're not. Second of all, there's no need for a new Cory and Harley. That relationship means nothing to anybody, and it was clearcut uninteresting bullied/bully. Third of all, it undercuts the specialness of Cory/Shawn (and Riley/Maya) if the Maya/Shawn of the equation can be plugged in for simply any wayward soul who passes Riley/Cory's path.
Sure, there was individual moments I liked. Lucas was mostly boring and suffering from the show's indecision about who they want him to be all episode, but yes, he did have a nice moment with both his ladies. And I liked Sabrina and Rowan's performances throughout (the MVP is certainly one of them), but on the whole, I have to say this episode was my least favorite of the season. As bad as certain moments in Gravity and Secret of Life, I at least respected that they were trying to accomplish something. This was as filler as filler gets.
Sure, I'll admit this would have been an episode to include Zay. More so than episodes like "Mr. Squirrels" or "Tell-Tale-Tot" where he served no purpose. With an episode like this, that should be about the group dynamics of the kids, the more the better. Still, I think we're thinking of what the potential of Zay could be, then what he actually is. I'm sure if he was here he would have just been a full-throated supporter of Mayaville and nothing more.
Honestly, though, I will say Ava didn't bother me in this one. I didn't like her or anything. But she didn't bother me. Her actress is improving a little quicker than Auggie's is, especially considering she's in a lot fewer episodes. But yeah, what the fuck is Topanga doing home at 3 p.m.?
Nice catch with that BMW-picture in the kitchen, a favorite BMW picture of mine (it is the Season 4 DVD cover after all). I like the idea that this picture is now canonically one all four of them once posed for. I have this image now of Amy getting out the camera and getting them to all pose in the park or something one time. And like Shawn wasn't really smiling so she had to take it a few times.
What game, Tales of Symphonia? Good ol' Gamecube.
* Probably because George Feeny wouldn't stand for this shit for a second.
Tales of Symphonia indeed. That game is legendary.
Honestly, I'm surprised by your reaction. How many times did they do "Shawn and Cory get in trouble"? Or "Cory covers for Shawn and then learns a lesson," or "Cory and Shawn have dating problems"? When it's a fundamental concept of the show like that, repetition is unavoidable. That's how I feel about this episode's "Riley is a good influence." Doesn't bother me at all.
Cory is absolute garbage. You're right. But the rest of the class did deserve detention, and they mostly goofed around during detention. So it's not like these kids were subjected to a cruel and unusual punishment. AND Cory only made Maya stay that extra hour at the end. The "those poor other kids" argument doesn't really work in this episode.
I thought it went without saying that the Cory -> Harley influence occurred in between series. I never got the impression that they're retconning their time in high school.
Most surprising is that you didn't have anything specific to say about Riley. I usually hate that they constantly shove it in our face that Riley is super duper unusually sweet. But this time they showed us instead of telling us. Her inability to choose a goose? "Wipe your faces off you look ridiculous"? Those were great.
My apologies, I liked Riley a lot this episode. Riley's been great in general this season, lately I've been enjoying her more than Maya. She's very funny and has had a lot of great bits. I also forgot to comment on her "It STARTS at 10?!" outrage from last week and I meant to.
Okay, it's not a bad point that BMW reused plots all the time and that didn't bother me, but I don't think it's a totally fair comparison. I mean "Cory and Shawn get in trouble" and "Cory or Shawn has dating problems" is so crazy general that there's no choice but to reuse that plot. And this is a totally new plot. I just wish it made us something discover different than... the basic premise of the show which is that these two best friends are different and need each other. Both because it's so self-evident to us, and also because I'm not sure why Cory felt he suddenly needed to each that to Maya and Riley. What was going on that he thought they needed to be reminded of that? I think they know.
The "these poor kids" argument does hold because this was all like... a social experiment or something of Cory's. He was purposefully late to try to get them to act out (spurred on by Maya) and he only had them all act like this so he could teach Maya and Riley lessons. He's using them like pawns and not teaching them a thing!
As for the Cory/Harley thing, I don't think that goes without saying at all. He kept referring to a "good kid" who helped him out, which implies Cory was a kid, and he seemed to me that this was a lesson he'd discovered during his school career. I had been assuming that when Cory and Harley ran back into each other or reconnected on Facebook or whatever happened that Harley had already turned over his new leaf, was a mature adult who was a little down on his luck, so Cory helped him out. If Cory somehow rediscovered Harley as an adult who was, what, I guess an honest-to-god criminal and he intervened and turned him off of his life of crime... I think we need to hear that. I want to know the story there, I shouldn't have to assume.
I think we have a mutual love for Nintendo. We should discuss that. Or be Miiverse friends or something.
Was Cory intentionally late? If they said that explicitly I totally missed it. They said at the end that the whole thing was his plan, but I thought that just meant the detention part. Like he saw that they were being rowdy after being late, and thus created the detention plan. If there's proof that he was intentionally late, I will be forced to agree with you.
And your last line about Harley is spot on. We shouldn't have to
assume. Especially since this is supposed to be its own show. Anyone who hasn't seen BMW is like "uhhhh okay?" when it comes to Harley. We definitely need some exposition on his story with Cory.
I haven't been impressed with any of Nintendo's releases since Mario Galaxy. My only Wii U game is Smash 4, but I stopped playing pretty quickly. I played Brawl competitively for a while. Life was easier in high school.
Yeah, Cory was intentionally late for sure. At the end of the episode there's this exchange between Cory and Maya:
Cory: How long did it take you to go wild?
Maya: Like five minutes!
Cory: Hey, that's four minutes later than last time!
Maya: But you weren't there this morning...?
Cory (coyly): Yeah. Subway was late or something.
Maya (knowingly): Or something.
Seems we agree on Harley!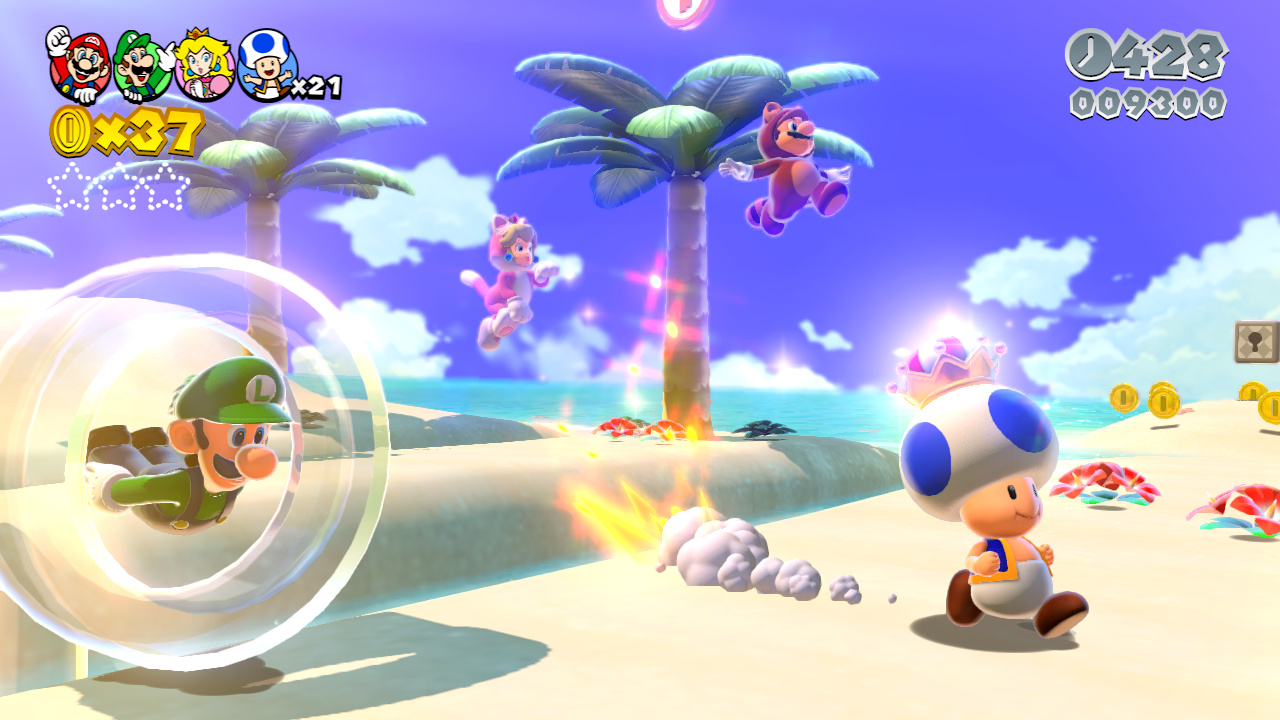 Oh man, wow, you've missed out on a wealth of good games! Get yourself Mario Kart 8, Super Mario 3D World, Splatoon, Pikmin 3, Wind Waker HD, Hyrule Warriors, Bayonetta 2, Donkey Kong Country: Tropical Freeze, Lego City Undercover, Rayman Legends and Captain Toad: Treasure Tracker.
I don't know, I'm probably just about out of things to say about this one. Wasn't a horror show or anything, but I think I got the least out of it of any episode this season.
Episode Rating: C
Episode MVP: Rowan Blanchard (Riley was consistently entertaining here)
Feel free to take us home, Sean. And once again guys, tune into his live stream tonight at 5 p.m. (Eastern, I assume?)
Yeah that's about the end of it. Cory is a frustrating manipulator, yet somehow entirely necessary for the show to work. And yeah, I'm unbelievably stupid for not thinking to put the time zone. It's 5 pm Eastern! There's a whole 24 hours to get through though, so any time would be awesome.
I'll definitely try to check it out!
NEXT WEEK: Shawn and Maya go SHOOOPPPPPIIIIIIIING!!!!!!!!! Seriously, that seems to be all Disney Channel feels like advertising about next week's episode. Maybe they feel they need to make the promos about the kids. Anyway, next week is the Angela/Chet episode. I'm actually looking forward to seeing exactly how they go about this. I'm starting to feel confident it's going to go the way I want it to.